From the Administration Panel main menu, click on Manage Affiliates, and then click on Statistics and Payment. The affiliates' names are listed with to-date summaries of Clicks, Orders, Earned, and Unpaid stats. Click the affiliate ID number or the Profile Icon,

, to open the affiliate profile page. Click the affiliate name to email the affiliate.
A Pay Now icon,

, will appear next to each affiliate who is owed a commission.
Click the Pay Now icon,

, to open the Affiliate Payment panel.
Click the Statistics icon,

,to view stats and history for each affiliate.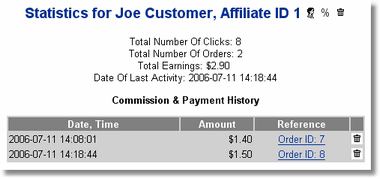 Click on the Order ID link to view the order details.

Click on the Affiliate ID number in the Referred by column to return to that affiliate's statistics page.