Point your mouse over the Affiliate menu on the Administration Panel main menu. There are five alternatives on the Affiliate menu.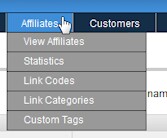 View Affiliates
E-Mail Messages To All Or Select Affiliates
View And Edit Affiliate Contact Information
View Commission & Payment History
Assign Discount Codes For Manual Referrals
Statistics
View Affiliate Sales, Commission Stats, and History
PayPal Payments and Update Commissions Paid
Link Codes
Link Categories
Custom Tags
Add or modify custom tags for use with the page replication system.