Digital product files are accessible only after payment has been completed.
See also: Key Code Products
When Downloadable Products Are Ordered
Upon completion of payment, a password and link to download the program file(s) is included within the emailed receipt.
A login to download the product file(s) is included in the payment confirmation page. The customer also can click the link in the receipt at a later time to access the files(s).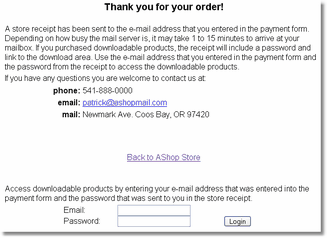 Automatic Delivery is optional with payment gateways that support the feature. When Automatic Deliver is used, customers still receive the password and link by email AND upon completion of payment, they will be automatically logged into the product delivery page.
The password can be set to expire in a number of days and/or after a number of downloads. This is set in Shop Parameters.