Unpaid orders are created in the shopping cart when a manual payment option is used.
Apply Payment and Activate Unpaid Order
1. An order notice is emailed to the shop administrator when each order is completed. When a manual payment method is used to pay for an order, the order notice will include a link, which can be used to record receipt of payment and activate the order.
2. Unpaid orders may also be activated through the Sales Reports menu.
Select Unpaid and click Edit.
Then click the manual payment icon in the Unpaid Orders Sales Report.

Payment Confirmation Message
After payment is applied there is an option to send a payment confirmation message to the customer. The Subject and Message body is automatically filled in with predefined text, which may be edited before sending the message.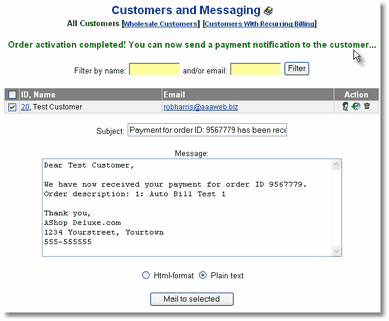 Send Payment Reminder Message
In Sales Reports, select Unpaid and Edit mode. For each unpaid order, there will be a link to send a payment reminder message.
Click on the payment reminder icon/link.

The Subject and Message is pre-filled in and may also be edited.
A link to pay will be automatically included in the message.